The Judgment card of the Major Arcana in the tarot represents evolution, resurrection, and the great awakening. This marks a time of life when it comes to a complete end so dynamic new beginnings can happen. This is the time of transition, renewal, and redemption. It is also a time of making a major decision usually that is life-altering. The best way to describe this card is that a new level of consciousness has been reached, and that happens after being enlightened or experiencing life-altering to have gone through this major transition. Judgment can also represent reincarnation.
An example of the Judgement card coming into play is when it comes to a bully who was enlightened who transformed for the better. He had been a bully for years. He was a bully when he went to school and then became a workplace bully. However, he went through a major challenge that turned out to be a life-altering experience. It made him see the damage he had done by his past actions and the hurt that he caused others. This awakening he had caused by this challenge not only made him see how he harmed others, but he made sure that he redeemed himself by being kind.
Going back to that high schooler example that we have been using all along is that when he started as a freshman, he did not take his work seriously. Now, through trials and tribulations throughout his high school career, he sees the importance of hard work and taking it seriously. Along the way, he got some ah-ha moments for him to take his work seriously. He comes to this realization when he is close to graduation. That is also the Judgement coming into play.
The Judgment in reverse can represent stagnation, and poor judgment that could also be hasty, as well as self-doubt. It can also mean being illogical.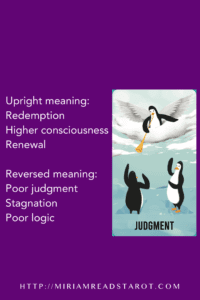 Astrologically this card is associated with Pluto, the planet of transformations, and it is the 20th card of the Major Arcana.