The Ten of Cups (Ten of Ice in the Penguin tarot deck) is the card that indicates a happy family. This means everyone in your family is harmonious and not causing any friction. Everything is aligned. This is a card that also indicates a family gathering will be happening and it will be fun. 
It does not necessarily mean your family is big. You can get this card if your very small family that consists of you and a few friends who you consider as a family are all on good terms. Or this card can also come up when you feel that the family that you have has been extremely supportive. There is nothing negative to feel or say about your family right now at all. You feel loved, supported, and you are loved and supported by your family. 
This card can also be indicative of a family gathering like a reunion where you will only have a good time and make some happy memories from it. 
The Ten of Cups reversed is when you are disconnected to your family even though you wish you had been closer to them. It can also mean that your values are not aligned with theirs. You are also struggling with your relationships.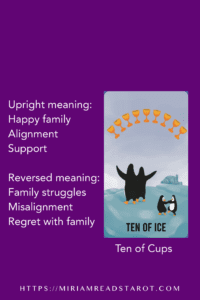 The associated astrological placement is Mars in Pisces.