The Queen of Wands is a court card that represents confidence, engaging with others, determination, courage, and independence. This is an upbeat card and it sends a message that you are here to see through your own visions of creativity as well as the soul purpose. And you will do so when life gets tough. You are going to show what you are capable of even in the middle of adversity because nothing will bring you down.
You have an optimistic nature and since this is the card that represents engagement you cannot wait to share your ideas with those around you. Not only that but you have the gift of self-awareness and self-actualization. You know what your strengths and gifts are, and you know what your weaknesses are. You know exactly how you can channel your strengths and work with your weaknesses in order to attain your goal.
You are goal-oriented and determined to attain it while you remain friendly with others as well as looking at the half-glass full at the same time.
The Queen of Wands reversed can mean two things. Either you have reached a level of confidence that you are not bothered by the opinions of others. You know your own truth. Or, it can represent the traits of the upright card such as being determined but is not nearly as engaging. There is introversion in the picture.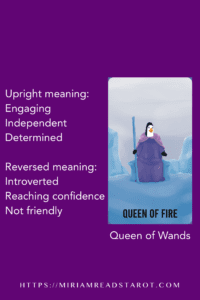 Astrologically this card is tied to Pisces and Aries.