The Queen of Pentacles (Queen of Rocks in the Penguin tarot deck) is the card that represents the working parent whether it is the mother or the father. And while at home, the parent shows their physical nurturing by cooking up healthy meals for the kids and the spouse. And they make sure the home is clean and inviting. They financially contribute to the household as well. 
The Queen of Pentacles also represents the archetype of someone who is practical as well as contributing or nurturing. Therefore, when this card comes up, these are the traits that you or someone else will end up possessing. You may be a parent, or you may just need to help out around the home because a family member will be needing help due to surgery. Or perhaps they need extra support because a family member had a baby. 
Therefore, the role of this archetype is to be like a working parent that can juggle the responsibilities of the household.
The Queen of Pentacles in reverse can simply mean that even though you are a contributing parent or have this archetype, you may be creating a business just for yourself. You may want to be financially independent and this business will not contribute to your family. Not for the time being anyway. It may also represent the conflict between work and home.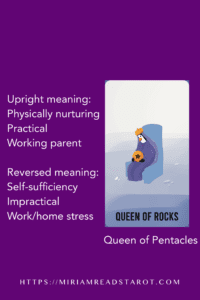 The signs that this card is tied to are Sagittarius and Capricorn.