The Knight Of Cups (Juvenile of Ice in the Penguin tarot deck) is a true romantic. This court card represents being in tune with your emotions as well as intuition, and you know exactly how to use them to attract others. You know how to use it to charm others. There is a lot of inspiration from the creativity all around, and there is a forward movement in turning your creative idea into a reality.
Therefore, the Page of Cups is what sent the message about the creative idea, and the Knight of Cups is taking action on it. This creative project, whatever it may be, is one that you are feeling compelled to do. Let's go back to that example about getting the creative idea to write a novel from the Page of Cups. The Knight of Cups takes that idea and begins to brainstorm on ideas and write them down. There is also an organization of the material that has been so far created with it. 
This card also shows up when you already are into a hobby but you want to take it one step further and turn it into a business. That is also an example of the Knight of Cups coming in.
When the Knight of Cups shows up in reverse, it is a sign that you have an overactive imagination, you have unrealistic goals and ideas, as well as being moody and displaying jealousy.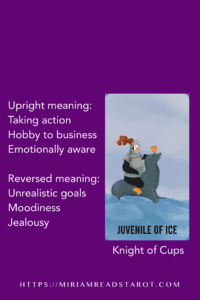 Astrologically this card is associated with Aquarius and Pisces.