The King of Wands is a court card and there is no interest in this card to create and conjure up ideas. This is the card that represents being a visionary leader and directing others who are following you towards a goal that you all have in common. The King is a natural-born leader.
That means you have a vision that is very clear about where you want to go. And you need the help of others to manifest what you have in mind. The way to do it is by being the leader, and others will follow you because of having a charismatic nature. And you are also very determined and highly focused on what you are looking to manifest. That is because you believe in what your vision is, and your followers do as well.
You are there to support those as well who are supporting you, and you treat them with respect. Being respectful towards them will help you reach your goal quicker as they will be more motivated to help you out. An example of this is being an entrepreneur or a business owner. You are hiring others to help you reach your goal.
The King of Wands in reverse represents being ruthless and disrespectful with followers, as well as being impulsive, and haste. There are also high and unrealistic expectations.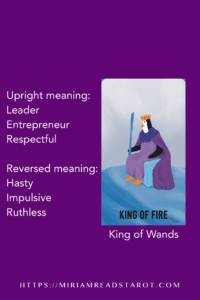 Astrologically this card is tied to Cancer and Leo.