The King of Pentacles (King of Rocks in the Penguin tarot deck) represents someone who is wealthy, a good leader, great with business, one who keeps things secure, as well as being disciplined. This is also another card that represents abundance. This is the card that represents the nurturing father figure. This is the one who will make sure that you are taken care of whether it is at home or at your job. 
The King of Pentacles is the court card that represents that archetype. Think of the best boss in the world. The best boss will be a great leader, and will be also good at business and will also make sure your job is secure. He is wealthy but is also known to pay his employees quite well and focuses on abundance. 
You can picture a character that matches this archetype on TV, such as Uncle Phil of the Fresh Prince of Bel-Air. Uncle Phil is a wealthy judge who showed excellent leadership skills and through discipline he attracted abundance. He also took in his unruly nephew in order to provide him with the discipline and security he needed to have a promising future. 
The King of Pentacles in reverse can be indicative of someone who has a poor relationship with wealth. Maybe represents someone who is not sharing their wealth with their family or someone who is not spending enough time with their family that is a workaholic. This can also be indicative of poor spending habits, or very stubborn behavior.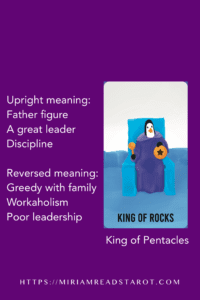 This card represents The signs that this card is tied to are Aries and Taurus.