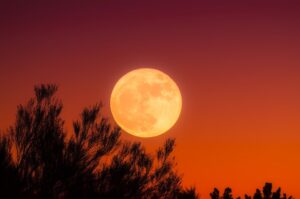 There are a few important transits happening this week and the week starts off with Saturn going back into direct in Capricorn on the 29th. If you have been feeling there has been more work to accomplish over the last few months than you could, then finally you will be able to get caught up with your work and feel caught up and more productive. Chances are you have had to focus on old projects to work on and it was slow to finish up. Saturn going direct will help alleviate that issue. However, you still have Mars in retrograde to contend with which can make it somewhat difficult.
There is also the Harvest Moon or the Aries Full Moon on October 1st, which is the first Full Moon of autumn (in the northern hemisphere). This is a time when you will be inclined to start taking initiative and you will see the areas of your life where that will be necessary.
Then on October 4th, Pluto finally goes into direct motion as it went into retrograde on April 25th of this year. Whatever transformations you did not make within during the time it was in retrograde will force you to just do that after it goes direct. Let's see how the rest of the Enneasigns do this week.
Type 1 – The Reformer – Associated with Virgo and Gemini – This week you will be inclined to solve many issues that come your way. And you will have the razor-sharp perception to do that as well. Others will come to you for practical advice because you will know exactly what to say to them.
Type 2 – The Helper – Associated with Cancer – You will be finding that you will have a lot of work to do this week and may find yourself overwhelmed whether it is office work or work at your home. Don't forget to delegate where you can.
Type 3 – The Achiever – Associated with Leo – Careful not to overspend this week. The urge will be there and you will have to tame those urges. Ask yourself the next t time you see some eye candy that you want to grab that has a heavy price tag if you really need it. Chances are you do not.
Type 4 – The Individualist – Associated With Pisces – If you are feeling inclined to renovate your home, then you should go for it. You may even entertain the idea of moving, and if you are going there, you should do it and start creating plans.
Type 5 – The Observer – Associated with Aquarius – Don't be surprised if you connect with an old friend from online that is living overseas. The energies are strong for reconnecting with old and long lost connections.
Type 6 – The Loyal Cynic – Associated with Capricorn – With Saturn going direct, you are feeling extremely motivated and you will even want to get extra work done, even if the deadlines are far away. Just be careful not to overdo it and don't neglect your family.
Type 7 – The Enthusiast – Associated with Sagittarius – You may have had thoughts about changing direction with your career or work. Before jumping into anything, be sure to really do some research, and if you really are certain this is what you want to do, take some courses so you have the skills.
Type 8 – The Challenger – Associated with Aries and Scorpio – You will be feeling introspective this week as you will seek the spiritual meaning of things and why things happen as they do. Therefore, you may find that you are pulling back somewhat to do some soul-searching this week.
Type 9 – The Peacemaker – Associated with Taurus and Libra – This risk of getting into some bad habits is there for you so be careful to not indulge in too much sugar. Also, be careful to not lie around too much and remain sedentary. When the energies lift, you may have a hard time getting back into positive habits you picked up.
Hang in there, one week past is another week closer to the end!