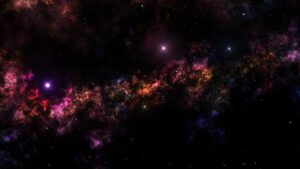 Everyone is understandably occupied with the COVID-19 scare as people have been told to quarantine themselves in their homes in most places around the world. That is in order to slow the spread and to flatten the curve. The Aries New Moon is happening on the 24th and this marks a good start to clean homes, learn something new, start a new hobby, and just make fresh starts.
In fact, it is believed by some individuals that this is the Universe's way of resetting everything as life has been out of control, and people's habits have been out of control. But I am not sure if I can accept this. People have lost their lives over this virus and saying this just invalidates the grief that their families and friends are experiencing. But I do agree that there are major shifts happening.
The fact of the matter is that Saturn enters Aquarius on March 30th which means that the focus is to evolve in order to serve humanity. It is true that the energies here are felt strongly in regards to that, and the virus is the reason for that. Let's see how each of the Enneatypes is affected this week.
Type 1 – The Reformer – Associated with Virgo and Gemini – The great news is that making decisions will come much easier now. Especially on the 25th as Mercury is in its proper place. It will feel like a breath of fresh air. In fact, you may decide to take a new direction in life and being at home for so long has been making you think about that long and hard.
Type 2 – The Helper – Associated with Cancer – Even though you cannot be around too many people right now, you will have the urge to entertain from home. The safest thing to do is to host a virtual party from Skype, and it is the closest thing you will experience when it comes to truly having guests over. They just won't help you enjoy the snacks that you provide. You can enjoy it for them though.
Type 3 – The Achiever – Associated with Leo – The financial issue that you were concerned about has been resolved thanks to coming up with a plan. And in addition to that, since you will be stuck at home for a while you will come up with a new way to make money. The gig economy is doing great.
Type 4 – The Individualist – Associated with Pisces – You have been faced to make a very important decision and this is the week to do that. Just be sure to evaluate every aspect of the decision. Keep emotions away from it and be simply objective.
Type 5 – The Observer – Associated with Aquarius – Even though you tend to stay solitary, you have a few friends that you had counted on over the years. Unfortunately, it seems as if one of them has not been a true friend to you. It will hurt but you will handle the hurt just fine.
Type 6 – The Loyal Cynic – Associated with Capricorn – Comfort zones are your thing but you have been into a hobby fo a long time. You are thinking of starting a home business out of it. Go for it!
Type 7 – The Enthusiast – Associated with Sagittarius – Traveling is not advisable and even permitted in some areas. You know this and this is why you are making the most of the virtual tours of different museums and other interesting places. You are adaptable and you will adapt to this change.
Type 8 – The Challenger – Aries and Scorpio – You will be happy to have that clarity back that you were missing for a while. You will finally feel more in control again which is what you need.
Type 9 – The Peacemaker – Associated with Taurus and Libra – You are feeling it within that this is the perfect time to get yourself organized since you really have to stay at home. You are feeling a productive urge and go for it.
Find out next week what is in store for you then! Hang in there over the next few weeks.