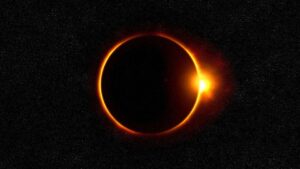 This is another crazy week as there was just the solar eclipse and the Cancer New Moon. Solar eclipses are fated events that signify that things are meant to go through some drastic changes. You are going to go through rapid personal and global changes as you are feeling it on a collective level. And as you know 2020 has been filled with too many (unpleasant) surprises and the eclipse will just bring out even more.
Even though new Moons are the best time to set new intentions and to start new things, this one is not as you need to slow down and reflect on your emotions and feelings. Those who are going to have it the hardest with this solar eclipse are Cancer, Aries, Libra, and Capricorn.
In addition to that, on the 23rd Neptune goes into retrograde in Pisces which will cause you to go into more of a dreamy state. And with all of the changes going on, you will be tempted to dissociate from a lot of things. This is why during the first week or so of the retrograde, you may want to go on some kind of staycation (vacations otherwise are just not a wise idea right now). Once you get that time away from reality then you will be ready to take it on more.
Then on the 25th, Venus goes direct in Gemini and this will be the time when you will see who your true friends are. And if you formed any relationships during the retrograde, you will see if they stick. If they do, then they were meant to connect with you. If they don't, then the relationship will fade away right after the planet goes direct.
Then on the 28th, Mars moves into Aries which means you will feel invigorated, and at that point, you may be motivated to get back into reality. And perhaps those creative energies from retrograding Neptune can be put to productive use. Let's see how the Enneatypes do this week.
Type 1 – The Reformer – Associated with Virgo and Gemini – That vacation is needed right now but you of everyone knows that going away is the worst possible thing to do. What is an ideal thing to do to help you relax? By developing a green thumb. Get into some gardening and that will be helpful in so many ways.
Type 2 – The Helper – Associated with Cancer – You may be given a fun recipe to try from someone through your work or a contact you have. This is a great week to give it a try.
Type 3 – The Achiever – Associated with Leo – Just like everyone else, the upheavals that have been going on all week are getting to you big time. The best thing to do is to start a creative project that has nothing to do with your career. Yes, starting new things during Mercury in retrograde is not ideal. However, in this case, it is for fun. You need it.
Type 4 – The Individualist – Associated with Pisces – You may either be inclined to do all work or all play this week, and this is the time to challenge yourself to balance both.
Type 5 – The Observer – Associated with Aquarius – You are feeling bored and you are feeling sluggish. What can you do that is enjoyable so you can invigorate yourself before starting your workday this week? Or taking care of your responsibilities at home?
Type 6 – The Loyal Cynic – Associated with Capricorn – You are purposely getting lost into your work in order to avoid those who are making you feel uncomfortable. It is stressing you out. You eventually will need to face them so you feel a lot less stress.
Type 7 – The Enthusiast – Associated with Sagittarius – You are having a hard time with the reality of not being able to go away this year. The best thing then is to imagine yourself going where you want to go and jot it down so you can make it a reality after the pandemic.
Type 8 – The Challenger – Associated with Aries and Scorpio – You will be urged to know which relationships you want to keep and which ones you want to cut ties with. And you won't hesitate to cut ties with those who you have decided are not worth your time and energy anymore.
Type 9 – The Peacemaker – Associated with Taurus and Libra – You have been feeling quite irritable and this is why this is an excellent week to immerse yourself in a creative project to recharge your batteries. You may also be urged to make changes to your resume or portfolio for the future as well,
Hang in there, one week past is another week closer to the end of not just the pandemic but the crazy stuff happening.