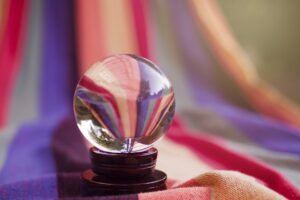 Get ready to have an emotional week as Mercury in Cancer goes into retrograde and any thoughts you have had will be colored by emotions. And that also means your emotions will easily take over logical thinking and thoughts which can cause many misunderstandings on an emotional level. And any of the mishaps that are associated with Mercury in retrograde such as missed messages and electrical appliances breaking down will be tied to emotional responses.
Additionally, the Sun moves into Cancer on the 19th. Even though Saturn in retrograde has also had a significant influence on the easing of restrictions, you likely will prefer to stay home more than go anywhere for security reasons which are the influence of the Sun. Then on the 21st is the New Moon in Cancer in addition to the solar eclipse which will give you an emotional nudge to try new things. Things that are no longer serving you will also come to an end whereas new things will need room to enter your life which is what the eclipse does. Let's now look at how each Enneatype is affected this week.
Type 1 – The Reformer – Associated with Virgo and Gemini – Be prepared to take on some new responsibilities this week which can involve your family, home, or work. And this is also a time to evaluate the responsibilities you have as some may no longer be useful for you and you can remove them.
Type 2 – The Helper – Associated with Cancer – You will be very frustrated this week and your emotions will be running high. Be careful when you drive as you could end up driving rashly if you are emotional and that increases the risk of things not turning out well, to say the least.
Type 3 – The Achiever – Associated with Leo – You have had time to do self-reflection and this may be a good time to start planning for how to implement some changes that you will want to see take place. With Mercury in retrograde is not a time to start yet, however.
Type 4 – The Individualist – Associated with Pisces – Be prepared to be facing some mood swings as you will be sensitive to the retrograde in Cancer right now. Retreat if you must if that keeps you calm.
Type 5 – The Observer – Associated with Aquarius – Even though Mercury in retrograde is not the best time to sign new contracts, there may be an exception for you to do so this week. Just be sure to re-read it over and over so nothing is missed.
Type 6 – The Loyal Cynic – Associated with Capricorn – If you are a business owner, a partnership could be on the horizon, but you are so good at not getting carried away with rushing into things. And this is not something to rush into. Otherwise, not much will change and just take some time to relax and spend time with your family.
Type 7 – The Enthusiast – Associated with Sagittarius – You may connect with someone who could help you grow your business unexpectedly or find you some new line of work. Either way, your chances of making some extra money are in your favor.
Type 8 – The Challenger – Associated with Aries and Scorpio – You are dealing with a lot of stress from the issues happening in the world and just feeling as if you have to take care of everything and everyone. It is important to surround yourself with those who are encouraging you and those who will help you relax so you can balance yourself.
Type 9 – The Peacemaker – Associated with Taurus and Libra – You will be expected to do your job this week. Those around you will get into a conflict that will not involve you but you will be needed to mediate the issue. And you will do just fine with them.
Hang in there, one week past is another week closer to the end of not just the pandemic but the chaos that is going on.